During the day the
sun radiates energy
and heats up the roof.


At night the roof
radiates the heat back
out into the atmosphere.


small business

big results

Louisiana Infrared is a small, woman owned business based out of Bossier City, LA. We have been in business since 2002 and specialize in Infrared Roof Moisture Surveys. We are committed to provide the best Infrared Services at a fair competitive rate. Our inspectors are Level 1 Certified Thermographers with over 5,000 hours of experience.

We can assist you or our client in determining if the roof system needs to be replaced or recovered by finding and marking the wet areas on the roof. Our reports are legally binding and can help a great deal in litigation. We carry 5 million in general liability and will travel anywhere.

Some of our clients include: NASA, Lockheed Martin, Army Corps of Engineers, Jacobs Engineers, USPS, multiple School Boards and Universities, Winn Dixie, Wal-Mart, Dillard University, Siplast, Marriott Hotels, GAF, Johns Manville, Temple-Inland, and many more.

Thermal Imaging
Here is the roof top of a home. You can distinguish the various degrees of heat and moisture.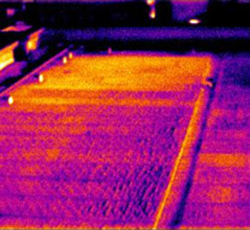 About Thermography
Thermography is the use of an infrared imaging and measurement camera to "see" and "measure" thermal energy emitted from an object. Thermal, or infrared energy, is light that is not visible because its wavelength is too long to be detected by the human eye; it's the part of the electromagnetic spectrum that we perceive as heat. Unlike visible light, in the infrared world, everything with a temperature above absolute zero emits heat. Even very cold objects, like ice cubes, emit infrared. The higher the object's temperature, the greater the IR radiation emitted. Infrared allows us to see what our eyes cannot.
Infrared thermography cameras produce Images of invisible infrared or "heat"radiationand provide precise non-contact temperature measurement capabilities. Nearly everything gets hot before it fails, making infrared cameras extremely cost-effective, valuable diagnostic tools in many diverse applications. And as industry strives to improve manufacturing efficiencies, manage energy, improve product quality, and enhance worker safety, new applications for infrared cameras continually emerge.
Contact Us Today!